---- July 2013
Nick Gravagne
Class – One-Day Piano Prep
Customer Communication
· Avoid slick sales manship. Consumers today, especially the savvy ones, can spot a sales pitch from a mile away. You may win a few, but you will lose most.
· Be a Solution Based company.
This means don't recommend or sell you anything your customers don't need. Listen to your customers to find out exactly what problems they have and what they need. Together, find and agree upon a solution before the work is started. Specialize and generalize by offering full line diagnostics, parts and repair. Make recommendations on upgrades to make your customer's piano perform better.
In other words, Solve their problems within their budget. If this can't be done you will have to decline any work.
· Remember "You're The Pro – You should Know!"
· Do Not Denigrate Their Piano. It may mean a lot to them regardless of its condition.
· Practice being neutral. Be StarTrek's Mr. Spock.
· Learn to preface your comments on the piano's condition with the phrase:
"When Your Piano Was New …"
o Example: Avoid saying, "These hammers are in terrible shape and seriously need reshaping…"
o Rather say: "When your piano was new your hammers were round on top and not flat and grooved like they are now."
o Guide your customer in discovering the piano's ills and possible treatments.
· Use the Checklist to qualify the piano as a One-Day candidate for upgrade.
Pricing – typically based on what you would otherwise earn if you were tuning pianos all day (say four tunings at your standard retail rate). That said; I subtract out the cost of expensive gas and wear and tear on the vehicle. Use either actual costs or depreciation pro-rata miles you would have otherwise traveled that you do not have to travel as you are spending the entire day in one location.
On-Going Service – the one-day prep idea is ideally supported by the Full-Service arrangement. Explain to the customer that although you can affect a noticeable improvement to touch and tone in one day that many items will need future tweaking and readjustment.
The Full-Service Concept can be as flexible as you and your customer desire, and the frequency can be often as every tuning or twice per year or even once per year.
Customer Expectations
· TONE mostly?
o "It's too bright, too dull and uneven. I can't seem to make nice music like I used to."
o Then concentrate on this, while at the regulation steps work primarily with setting blow, letoff – drop, rep springs and hammer line for AfterTouch.
· TOUCH mostly?
o "I can't play softly, notes won't repeat. I'm thinking of selling the piano!"
o Then concentrate on this, taking regulations to a finer degree. As to tone; tune, file hammers for shape and squareness, and fit hammers to strings.
On an aging piano, but reasonably decent, what is the usual issue with the regulation?
· AfterTouch is missing or else compromised, and rep springs are weak.
· Three action compaction points responsible for loss of AfterTouch
o Balance rail punching compaction
o Whip heel compaction
o Knuckle compaction
o QUCIK REMEDY: raise the capstan screw to reestablish blow. This alone cures a multitude of problems.
On an aging piano, but reasonably decent, what is the usual issue with the tone?
· Harsh tone, uneven (maybe too dull). Dynamic range compromised.
· Three considerations here:
o Flat hammers (but not worn out)
o Tight and inflexible hammer shoulders
o Hammers not mated to strings
o REMEDIES: shape hammers, needle shoulders (or otherwise open up with liquids), mate hammers to strings.
TOOLS – TIPS – GADGETS TO MAKE THE JOB EASIER AND MORE EFFICIENT
· The Laroy Edwards cart (or something like it) is a must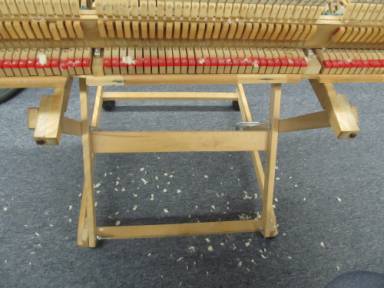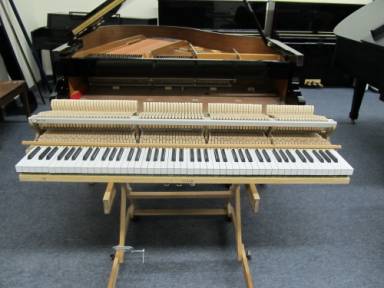 ACTION ON EDWARDS CART
· Sand paper strips of various grits (with tape backing)
· Long straightedge for keys and eyeballing hammer line
o Recommend WNG, see at http://www.wessellnickelandgross.com
o due to its I-Beam construction this item is true and doesn't easily fall over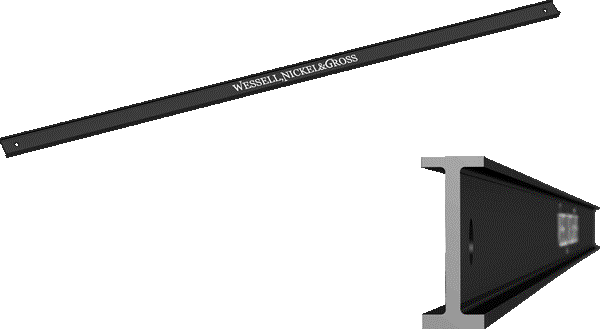 · Hammer softener from Pianotek
· Hammer hardener from Pianotek
· Magnetic strips for letoff from Pianotek
· Hammer tail support rail
· Good lighting and flashlights
· Extension cords or reel
· Mini vacuum cleaner / blower
· Pad and pencil for notes
· Dust masks
· Small fan if working in heat
· Small heater if working in cold
· Water bottles and personal items
· Moving blanket for lid of grand piano
· Perhaps a small fold up card table for convenience
MAKE IT A JIG-LESS GIG
· SANS – Action regulating racks!
· Set letoff in the piano via magnetic strips
· Set drop by eye, relative to letoff
· Set Backchecking to samples and test in the piano
o Set remaining backchecks by eye and then check
PUTTING THE KIBOSH ON THE DEAL!
Look to disqualify the piano as a one-day prep candidate
KIBOSH ITEMS (disqualify the piano for a One-Day prep)
· Very worn key bushings, hammers, action parts
· Worn out balance holes, keys chucking badly
· Wholesale misalignment of parts
· Too much hammer burn-in required
· Loose tuning pins, rust, etc.
· Dampers way off for timing, etc.
· Major key knocking of front rail
o Photo of key striker
· Key level way off, or entire key level too low (or high)
o Requires major punching work
· Dip way off (though not necessarily a Kibosh item – Depends)
· Pedals and Lyre way out, requiring more than simple adjustments. Pedals loose, noisy, wobbles, etc.
· Sostenuto system way out of adjustment
· Majority of hammers will not check (even with AfterTouch present)
· Targeted customer complaints requiring hyper-focused repair effort
· In fact, anything that does not fit into the work procedure outlined below
· Touchweight issues – hard to play or flyaway, high inertia, friction issues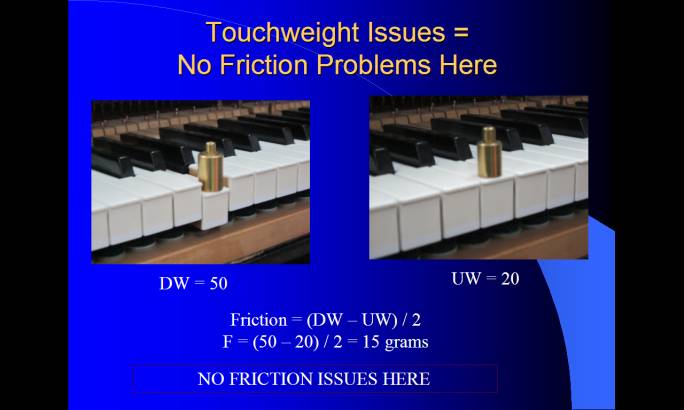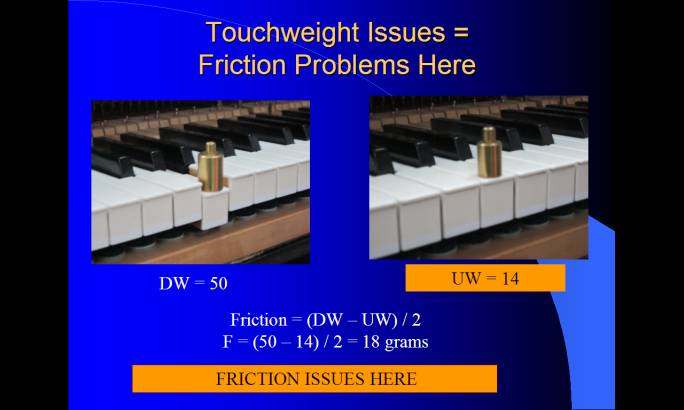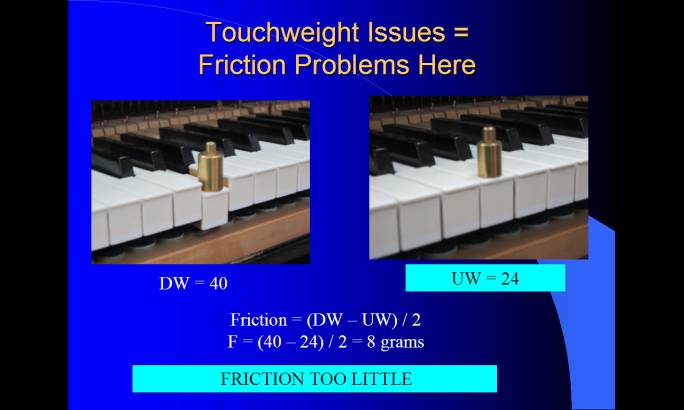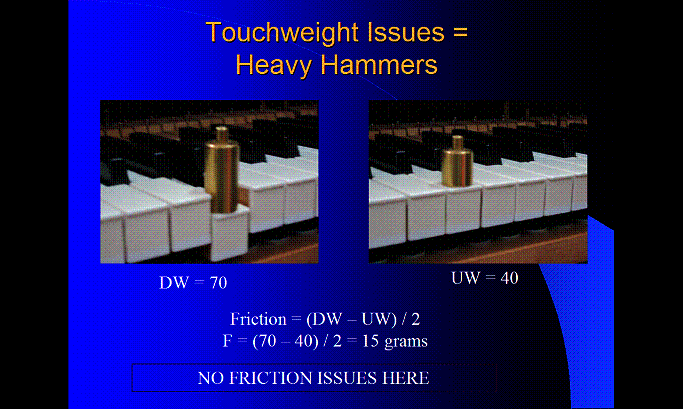 The Work Begins! It is now 8AM
PRELIMS TO AFTERTOUCH REGULATION
(4 hours max with a 15 minute break somewhere)
Do the following before you remove the action
· String work:
o Lightly tap strings to bridges (don't overdo!)
o Level strings at strike points to bubble gage
o Option here: forgo the bubble and block hammers to strings later on in this project list
· Tune / pitch raise piano
· Check action shift and correct now or make note
· Remove fallboard and cheekblocks
· Check for hammer alignment to strings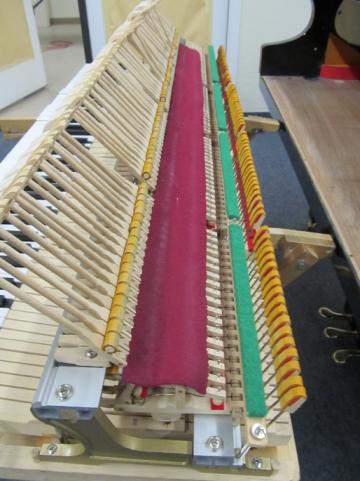 Felt Strip Under Knuckles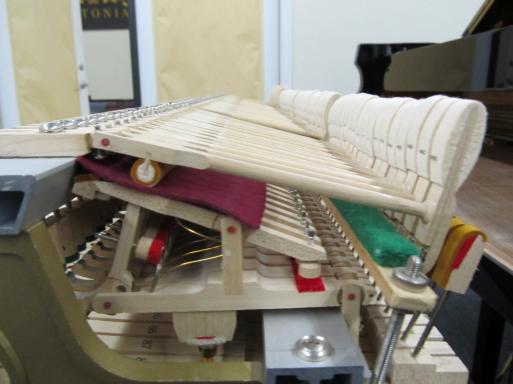 Felt raises hammers --- easier to block to strings for both spacing and voicing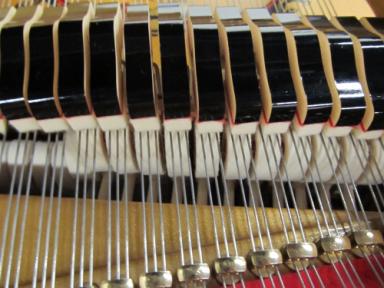 CHECK FOR HAMMER ALIGNMENT (SPACING) TO STRINGS
o Expect a few corrections and adjust these now. OK.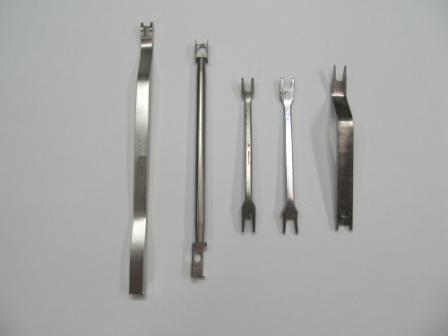 FLANGE SPACING TOOLS
o But if wholesale alignment required then this may be a KIBOSH item
o Or, the left keyframe block needs shimmed a bit to the right
· Check glide bolts for positive contact, or are they knocking?
o Correct now
· Adjust sustain pedal for "throw"
o First reduce lost motion; adjust rod to where the damper lift tray sits about 3 to 4 mm below the damper levers
o Next, press sustain pedal in order to determine if:
o It lifts dampers higher than depressed keys lift them
§ TEST: Play a chord with both hands and hold down keys. Activate sustain pedal. If damper heads rise higher than the keys raise them, the pedal sustain throw needs to be limited with either a felt spacer (Steinway) or capstan adjustment type screw found on many Asian pianos
§ Means sustain pedal throw needs to be limited as it is raising all dampers beyond where the key ends lift them
o Do depressed keys hold damper heads higher than sustain pedal (play and hold down a chord)?
§ Means sustain pedal throw needs to be increased
Ideally, damper heads should rise to same height whether lifted by key ends or sustain pedal.
· Check damper upstop rail (after sustain pedal throw has been set!)
o Play a sharp key and hold down, now lift damper head. If it lifts a good bit higher, the upstop rail is too high. Should have a mm or 2 of play.
o Use the clothespins trick to hold several dampers above their neighbors
o Or use "floating" upstop rail trick (See later on in project list)
o Upstop rail is too low if dampers show no free play, or worse, if damper levers are bumping hard into the upstop rail felt
· Set Glides (if knocking) and / or to raise key level a tad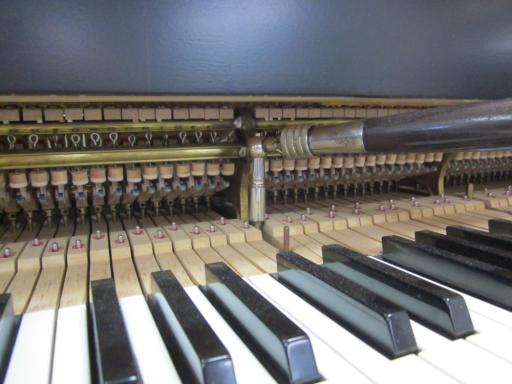 Adjust glides with appropriate tool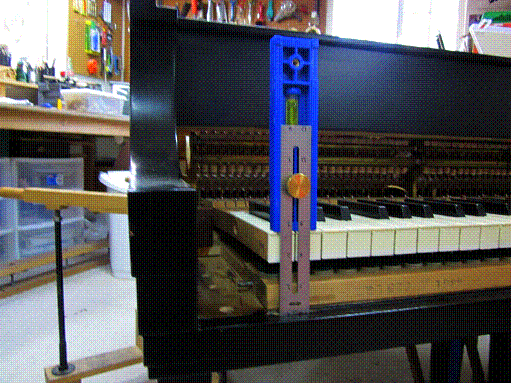 Checking Key Height at key ends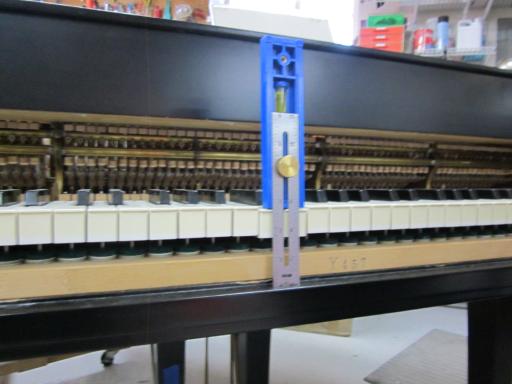 Key Level is crowned up here, so not a problem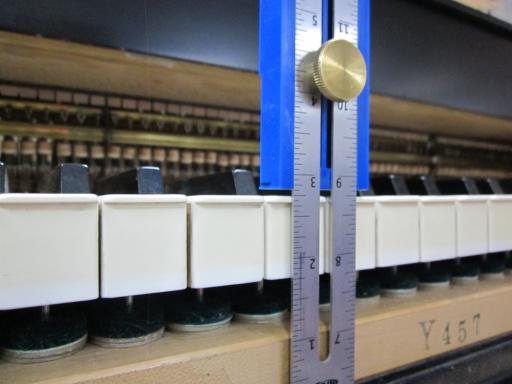 Keys low in center (exaggerated gap showing). Imagine smaller gap: it is usually possible to lower glides (raising balance rail) to raise all keys, but without lifting the front rail off the keybed.
· Spot level keys. Use short straightedge. Use the "cut punching" and offset alligator tweezers trick. Place cut punchings under felt balance punchings. Don't get too fussy! If close, leave alone. Remember your priorities and your customer's expectations.
· Quickly set samples for AfterTouch
o Hammer blow distance per blow gage on a couple of notes per section (this will likely change a bit so just get close for now)
§ For convenience choose the same notes such as A and E in each section
o Set sample letoff per gage (2mm a good all around spec)
o Drop will probably be too "long" now. OK
NOTE: positive drop (usually a bit excessive) is usually apparent in an aging action that has not been tampered with. If positive drop is not apparent, then turn all drop screws down a bit to make it so. Failure to work with positive drop, even if too much at this stage, will frustrate all further regulations!
o Check and / or set dip samples to 10mm (+ or –) with punchings
o Check for AfterTouch, i.e., complete follow through of the key-action train of events. (See AfterTouch in a Nutshell below)
o If AfterTouch is good, then proceed. If not (too little), then decide how to make it happen. The usual fix is to fudge the dip a bit deeper (dip range 0.375" or 9.5mm to 0.420" or 10.7mm) and / or fudge the blow by making it shorter. Better to do a bit of both. Whatever; do what is necessary to get good follow through.
Note that if the entire keyset is too low AfterTouch will suffer even if other specs are correct. A too-low keyset is a KIBOSH item as it involves wholesale raising of all keys at the balance pins.
Now, carefully remove action for the first time
· Clean soundboard and strings, action cavity ---- vacuum and / or blow out
o Optional: if not too bad, save to very end to save time for more important tasks
· Adjust damper upstop rail per the clothespin trick or "floating" upstop rail method
· Remove action stack and keys, remove and set keys on card table or on blanket on top of piano lid
· Vacuum action frame, action cavity and stack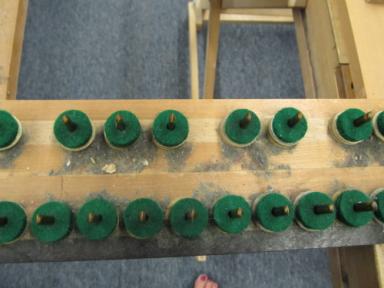 TYPICAL DIRTY ACTION FOR THIS AGE PIANO
· Tighten action screws
· McLube keypins, keybed, glides, shift spring, treble action frame side (makes contact with shift spring)
· Ease keys and replace on keypins
· Lube knuckles with Teflon powder and brush and McLube rep tops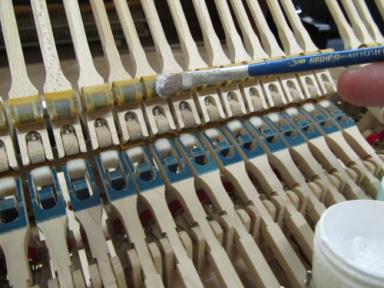 BRUSH ON THE TEFLON POWDER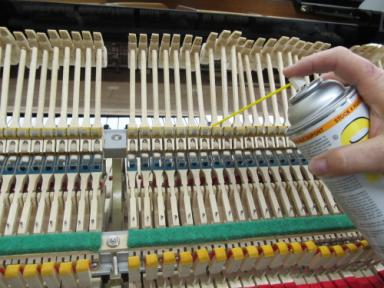 McLUBE REP TOPS (NOT FOR KAWAI BLACK PARTS OR WNG COMPOSITES)
· Reshape the hammers, removing as little felt as possible from very tops of hammers. Make sure that hammer crowns are square to hammer sides
· Clean up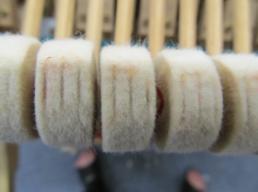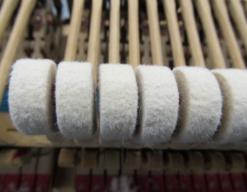 TYPICAL GROOVES FOR THIS AGE PIANO – RESHAPED ON RIGHT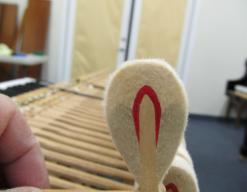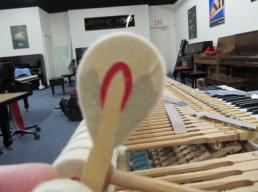 TYPICAL FLAT HAMMER CROWN – BETTER SHAPE ON RIGHT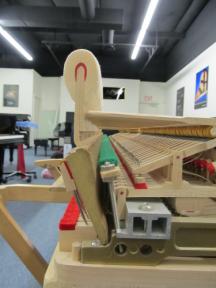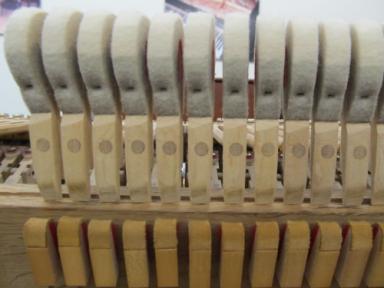 HAMMER TAILS SITTING ON CONTINUOUS SUPPORT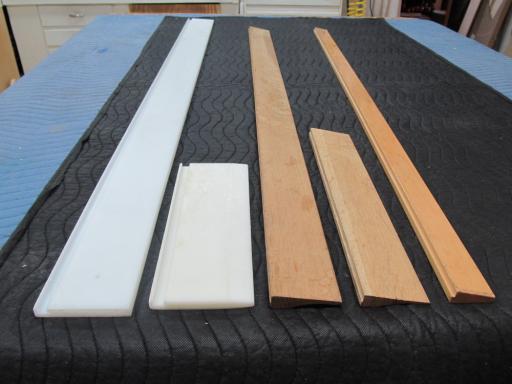 SHORT AND LONG SUPPORTS
· END OF PRELIMS (4 hours of work, mostly taken up with tuning and hammer filing)
BREAK FOR LUNCH! --- OR COME BACK ANOTHER MORNING TO FINISH
************************************************************************
Minimum Procedure for One-Day Regulating. It is now 1PM
NOTE 1: In the Prelim section, samples have been set to verify AfterTouch (AT)
NOTE 2: positive drop (usually a bit excessive) is usually apparent in an aging action that has not been tampered with. If positive drop is not apparent, then turn all drop screws down a bit to make it so. Failure to work with positive drop, even if too much at this stage, will frustrate all further regulations!
· With action assembled on the Edwards cart, quickly set a hammer line – don't be too fussy, get reasonably close
· Check and / or set jacks to knuckle core (you may find the Nuckljac tool helpful). You may leave jacks alone if very close to perfect.
· See Nuckljac at http://www.youtube.com/watch?v=yiw-1EWyrAc
· Now working from behind the action, set repetition spring strength for definite, but not too snappy, hammer rise (CHECKING SHOULD BE CLOSE IF NOT EXACT)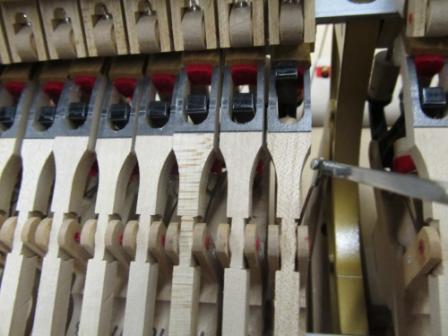 SITTING BEHIND ACTION, APPLYING TENSION TO REP SPRING
NOTE THAT DUE TO COILING DIRECTION, MOST REP SPRINGS ARE EASIER TO WITHDRAW FROM RIGHT SIDE (as viewed from back of action)
· Wink or roll all the jacks to eliminate lost motion by adjusting rep lever height screw. Hammer line will usually have changed and be somewhat uneven.
· Put action back in cavity and reset samples for hammer blow and letoff and drop. Things should still look good for AT.
· Remove action on to cart and re-set hammer line by eye, relative to straightedge resting on hammer flanges. (WNG straightedge). This hammer line should be fairly solid now.
KEYBOARD EXTRACTED HALFWAY AND BALANCED ON ONE ARM OF CART -- Be careful!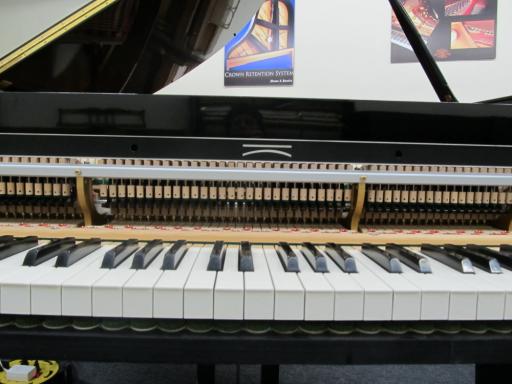 USING WNG LEVELER ATOP HAMMER FLANGES TO SET HAMMER LINE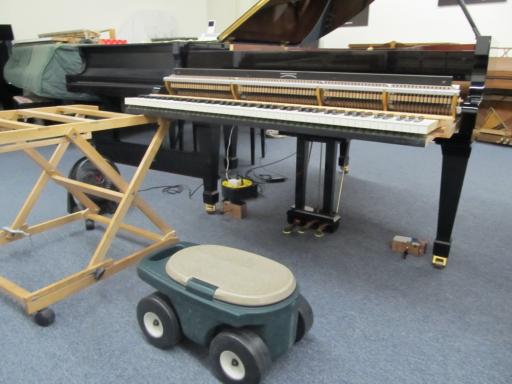 SHORT GARDEN CART USED FOR SIGHTING HAMMERS VIA WNG STICK
(Notice Extension Cord Reel in the back)
· Install magnetic strips for letoff
· Return action to cavity and set letoff on all notes
o Turning letoff buttons, cause hammers to block lightly but solidly against magnetic strips and then fall away
· Recheck dip samples RE AfterTouch (AT) and set dip punchings at all notes
o Recheck AT for "jack gap", and place punchings under cloth
· Remove action to cart and set drop for each note by eye
· Set sample backchecks by eye. Relative to hammers at rest, set checking to about 30mm above neighbor hammers (this yields about 15mm of checking from strings)
o You will verify these in the piano and make mental notes to correct out of the piano
· Refine Backchecking
NOTE: you should now have:
· Correct blow
· Proper letoff and drop
· A workable dip within reasonable parameters
· Positive AfterTouch
· Acceptable repetition spring tension
· Acceptable Backchecking
NOTE: this regulation is NOT a Concert Prep, but does represent a noticeable upgrade, and that is the point!
END OF AFTETOUCH REGULATIONS (2.5 hours max)
TOTAL TIME TO THIS POINT (6.5 HOURS)
***************************
HAMMER VOICING & Touchup Tuning
o Block hammers to strings
o Idea is that hammer should mate with all three strings of a unison
o Reduces or eliminates tonal noise and "zings" for clean tone
o Use continuous felt strip placed over reps and under knuckles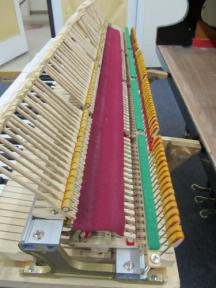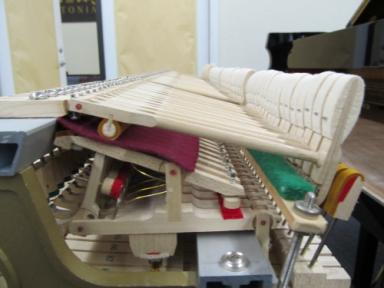 PLACEMENT OF CONTINUOUS FELT STRIP
o Touch-Up Tune Piano
o If tone is too bright needle down or use hammer softener from Pianotek see http://www.pianoteksupply.com/product/1690/Hammer-Softener.aspx
o If tone is a bit too dull in a section, say the melody section, you may want to brighten up with a conservative juicing at the shoulders, approaching the crown
o Use one-half proportion of Pianotek's hammer hardener solution (acetone and pellets mix), see at http://www.pianoteksupply.com/product/1631/Hammer-Hardener-Pellets.aspx
o You should have this mixed up beforehand
o Apply with a hypo, be careful not to drip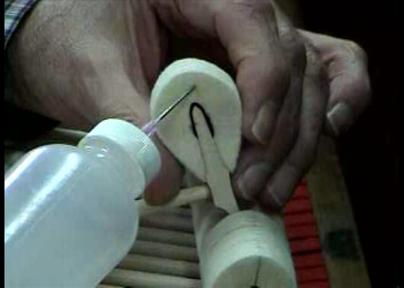 HYPO APPLIES HARDENER FROM SIDE TO FIRM UP HAMMER CORE
END OF TUNING AND VOICING (1.5 Hours Max) IT IS NOW 5PM
THUS THE END OF AN 8 HOUR WORKDAY
*************************
Two videos AfterTouch 6:22 minutes and AfterTouch 2:51 min
l With the above regulations exact or close, this is what to look for:
l Press the key:
– Hammer rises to string
– Jack and rep lever escape simultaneously
– Hammer should drop a bit
l And as key bottoms out on front punching
– the hammer and damper head should rise a bit farther
– The jack will have cleared the knuckle, but not so far that repetition suffers
– The jack top should not jam into the front of the rep lever slot
– Simultaneous escapement should occur (jack and rep lever should contact their respective letoff surfaces at the same time)
10 Action Regulating "High Points" guaranteed to improve performance!
1. Key Level exact or close (glides correct)
2. Dip exact or close to mfg. spec or workable
3. Repetition springs not jumpy or slow
4. Roll or "wink" jacks
5. Blow distance
6. Set escapements
7. AFTERTOUCH should be apparent now…
8. Set hammer line
9. Backchecking at 5/8" or 15mm
10. Damper timing at one-half blow distance
l A Kibosh Item if way off for one-day prep
l Check and reset UPSTOP RAIL!
Handout copyright May 2013
Do not publish or copy or distribute all or part without express permission of Nick Gravagne. Thank you for your cooperation!